8 min read
8 Natural Remedies for Menstrual Cramps from an Herbalist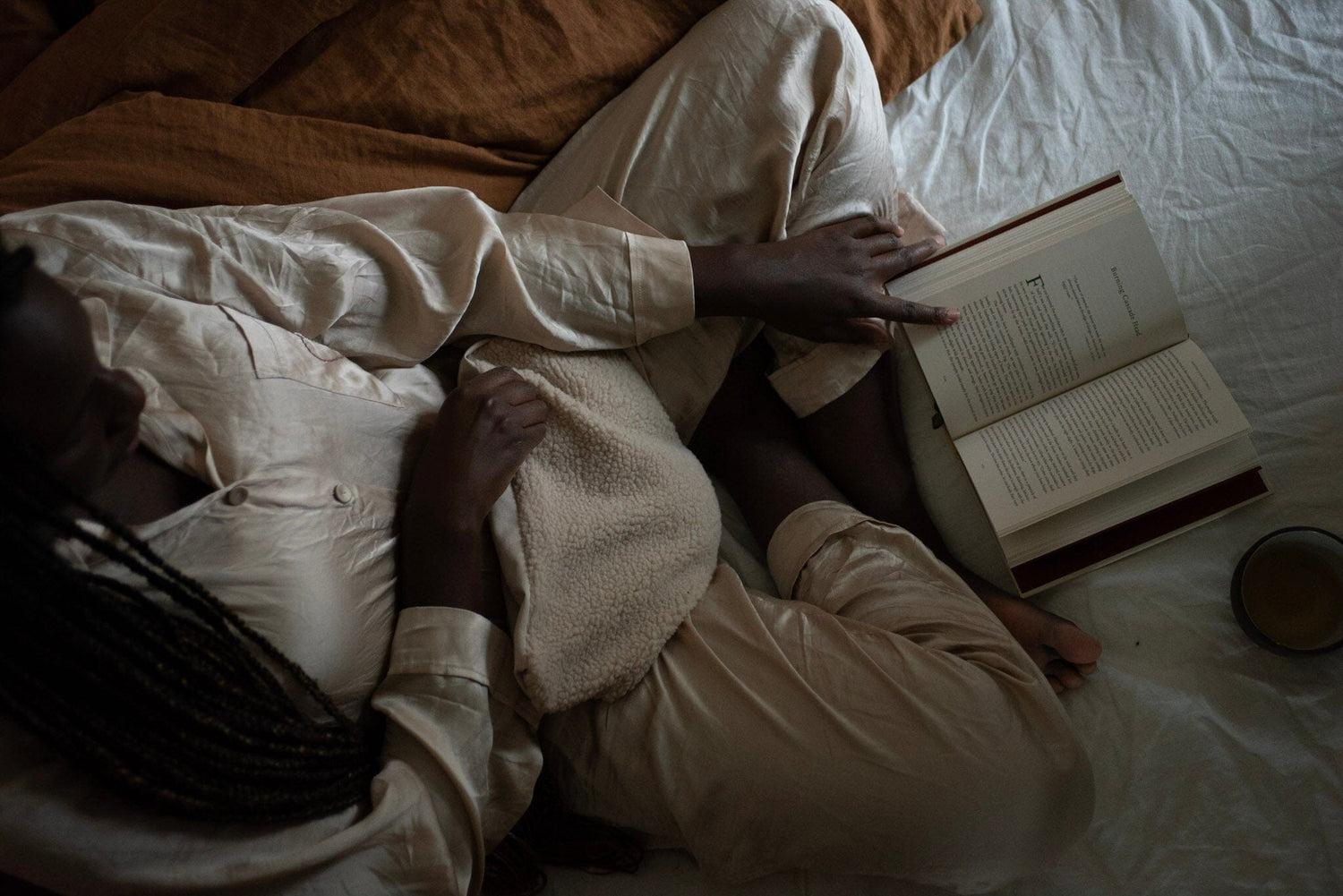 I've had menstrual cramps ever since I started menstruating. Some months the cramps are light and barely noticeable, but other months they're so bad I can hardly stand up. Like menstruators everywhere, I've had to power through work meetings and birthday parties and stressful exams while bleeding and cramping—and I worked hard to pretend like nothing was going on in my uterus. While being stabbed from the inside. Every. Month. 
Over the years, I studied and practiced herbal medicine and became a menstrual wellness advocate. I have a few tricks up my sleeve now when it comes to relieving menstrual cramps naturally. These days, I even look forward to my period. How did I get here? I'm sharing my favorite menstrual cramp remedies below.


What are menstrual cramps?
You might think this is obvious, but what are menstrual cramps, really? Folks who menstruate might experience cramping in different ways based on their bodies and personal constitutions. What's more, while menstrual cramps affect most people with periods, they're also misunderstood and undertreated because of sexism and medical bias. So let's break it down a bit.
Menstrual cramps can range in severity from light to intense. The cramps come from the uterus and uterine lining—also known as the endometrium. During your period, the uterus contracts in order to shed the uterine lining, which is the blood you see in your menstrual cup or pad. The uterus is a muscle, and when it contracts during your period, you can feel cramps and pain radiating into the pelvis, lower back, thighs, and in your belly. 
Folks with uteruses who have menstrual cramps find them to be most common just before your period or during the first day of your period. But menstrual cramps can also last longer: anywhere from 1-3 days is not uncommon. Severe menstrual cramps that last longer than 3 days—or low level period pain that is present all month long—could be a sign of endometriosis, which is a condition where endometrial tissue is found on other areas in the body, such as on the walls of the uterus, ovaries, pelvis, bladder, and in extreme cases the digestive or respiratory systems.


Natural remedies for menstrual cramps
The most common form of pain relief for menstrual cramps is over-the-counter (OTC) pain medication like Advil and Motrin, known as NSAIDs. You've probably popped a few of these while suffering from cramps, and that's okay (I do too). Many folks who menstruate seek natural alternatives to OTC meds because, in the long-term, these pills can harm your health. But because some medications are essential and many folks may need to continue using them, I've included a section on natural support for pain medication users below. Read on for my top 8 tips for easing menstrual cramps, naturally.
To relieve menstrual cramps, you have to take a holistic approach. First of all, when you get cramps, you want relief NOW. So there's 4 quick solutions for instant pain relief: 1) rest, 2) heat, 3) sex and orgasms (yes! I promise), and 4) herbs and supplements. These are meant as fast relief for when you're cramping.

And after that, there are long term strategies that address the root causes of menstrual cramps. These won't offer quick relief, but they'll offer long-term prevention of menstrual cramps. You'll want to try those all month long before the cramps come. They are: 5) lowering inflammation, 6) knowing your cycle, 7) hormone-balancing herbs, and finally 8) natural support for pain medication use.
#1: Rest
Rest is the number one tool in your menstrual wellness toolkit! Laying down and resting takes pressure away from your abdominal muscles. Rest promotes relaxation and increases circulation. Putting a pillow under your knees while laying on your back will also decompress the lower back. 
#2: Heat
Heat works really well for soothing cramps in most menstruators. That's because heat relaxes the abdominal, pelvic, and back muscles. Warm compresses, hot water bottles, a warm washcloth, or a hot bath all do wonders on menstrual cramps—it all feels really good, too. Heat increases circulation and soothes uterine spasms. Heat is a safe, effective, and accessible form of pain relief for menstrual cramps. Try it! 
#3: Sex and orgasms
Now, you might look at me like I have two heads. When you're in cramp hell, maybe sex and masturbation is the last thing on your mind. But here's the thing: it works. Here's how. Having an orgasm massively increases blood flow to the uterus. It also triggers the release of endorphins, aka the body's natural painkillers. 
Partnered sex or solo masturbation can lead to more dopamine, serotonin, and oxytocin—all of which relieve pain and improve your mood. If the thought of penetrative sex doesn't turn you on right now (be it vaginal or anal), try clitoral stimulation instead, or focus on your other erogenous zones (like your breasts or chest). Gentle skin touch and light massage might also do the trick.
#4: Herbs and supplements
Some herbs and supplements have an immediate effect on period cramps. The key is to know which ones to take when you want instant relief. Here are my top three: ginger, valerian, and magnesium.
Herb-wise, take ginger either in capsules, powder, herbal tea, or even soft ginger candies. Ginger relieves pain and is super warming. As a bonus, it will also soothe nausea associated with period pain. 
The other medicinal herb to have on hand when you have period cramps is valerian root. Often used as a sleep aid, a lesser known benefit of valerian is that it's a super effective antispasmodic (which means it soothes spasms, like the uterine spasms responsible for menstrual cramps). Take it as a liquid extract (tincture) as needed.
For supplements, turn to magnesium. It soothes period cramps because magnesium supports muscle function (relieving sore and cramped muscles, like the uterus). Magnesium relaxes the smooth muscle of the uterus and also lowers the prostaglandins (pro-inflammatory chemicals) associated with menstrual cramps. Choose magnesium bisglycinate for best results.
Or hey, go ahead and combine all the healing benefits of ginger, magnesium, AND heat by soaking in a bath with Solace Soak or Magic Mud.
#5: Lower inflammation
Higher inflammation has been associated with worse menstrual cramps. Frustratingly, menstruation also seems to increase inflammation in the body, causing an inflammatory loop that can worsen period pain. Throughout the month, lower inflammation by adding anti-inflammatory foods, herbs, and supplements to your diet. Think ginger, turmeric, and magnesium.
#6: Know your cycle 
Body literacy and menstrual cycle awareness is your birthright. Sure, you didn't learn it in school because our current sex ed is so inadequate, but you can start learning now. Your menstrual cycle follows the same phases every time. The four phases of your cycle are: menstruation, follicular, ovulation, and luteal. Chart your cycle and pay attention to your body. You'll know when you're about to menstruate, and you can practice more self-care to prevent cramps.
#7: Balance your hormones with herbal medicine
If your cycles are irregular or your menstrual symptoms are erratic, you might need to balance your hormones. Adaptogen herbs like maca and shatavari could be beneficial. They both offer benefits for reproductive health. Liver tonics like turmeric and reishi mushroom can keep the liver healthy and hormone levels in check. Red raspberry leaf is a uterine tonic that keeps the uterus healthy. There are lots of good herbal options. Consult a herbalist for your personalized plan.
#8: Natural support for pain medication use
Hey, if you need to use medication to keep your menstrual cramps from ruining your life, go for it. You deserve to feel well, and no one should judge you for your health needs. Some of the main concerns around long-term use of pain meds is their effect on your digestion and your liver. So make sure you take some digestive herbs like lemon balm or chamomile to keep your tummy healthy. Probiotics and fermented foods are good too. And liver-loving herbs you can take daily include reishi mushroom, schisandra berry, and turmeric.


Menstrual cramps and period equity
Menstrual cramps are too often overlooked and under-treated. Medical bias in healthcare means that menstruators don't receive the care they need. Folks who menstruate need support. They need paid time off when menstrual cramps make work impossible. They need permission to skip classes and exams when suffering from period pain. They need safe, effective, and accessible pain relieving medication that is targeted for menstrual pain relief. They need rest. They need someone to cook a yummy meal (or three) for them. They need period care that is gender-affirming, trans-affirming, and inclusive (and did I mention affordable?)
Currently, menstruators have NONE of that.
When dealing with remedies for menstrual cramps and period pain, we need wide-ranging changes in how we treat periods and folks who menstruate. Advocating for period equity means making period care accessible. It also includes reproductive care education, body literacy, and menstrual cycle awareness. This path can be rooted in pleasure and community. 
BIO
Marie White (she/her) is an herbalist and educator. Her work centers on menstrual health, fertility, community care and inclusivity in wellness. A lover of nature and humans, Marie is the acclaimed author of the reference book for all things herbal medicine and reproductive health, The Intimate Herbal. She is the upcoming author of The Herbal Doula (set for release in fall 2024). Marie offers workshops, courses, and one-on-one herbal consultations. Her work dives deep into hormonal cycles, periods, and the herbs and protocols to steer folks who menstruate toward health, wellness and pleasure. 
Website: https://www.intimateherbal.com/
Instagram: https://www.instagram.com/intimateherbalism/
Previous Article All Articles Next Article
All Articles
Flaxseed Heatpad
Designed to fit comfortably over your pelvis, this weighted heatpad is handmade and custom embroidered in-house. Warm again and again in the microwave or oven to enjoy long-lasting heat infused with chamomile essential oil for aromatic bliss.
$65.00
ADD TO CART
Solace Soak
Mineral-rich salt bath infused with arnica extract and a blend of earthy essential oils to help ease pain naturally. Contains: 350g

$32.00
ADD TO CART
Magic Mud
A concentrated, invigorating bath blend of ginger root and magnetic clay to ease pain and promote deep muscle relaxation. Mix it into a paste for a direct and intense effect or simply add to a warm bath for overall relief. Contains 350g
$36.00
ADD TO CART
Raspberry Relief
Powerful blend of plant medicines known for their ability to relieve period pain and ease PMS symptoms.
$22.00
ADD TO CART